ΜΕ ΕΛΛΗΝΙΚΟΥΣ ΥΠΟΤΙΤΛΟΥΣ
Εναλλακτικά μπορείτε να κατεβάσετε το Ελληνικό popcorn time.
Διάστημα: 1999 2x9
All That Glisters
The Alpha Moonbase needs a rare ore known as Milgonite, which is detected on an extremely dry planet. Koenig leads a small landing force and discovers a glowing rock formation which comes alive and cuts off the party's links with the base. It is a trap – the planet needs water to survive and has lured the travellers there for the water in their bodies.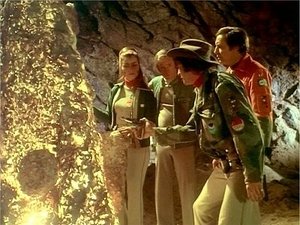 Oct. 28, 1976